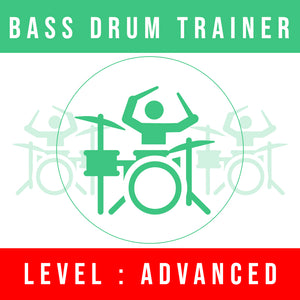 Easily the #1 question I get asked ALL THE TIME is this: What is the best way to practice double kick?
Now, there isn't one simple answer for this question. There are many approaches to take. My method has been used by many, many students over the years - some of which have gone on to become highly skilled, professional drummers. 
My method isn't complex - as Tony Robbins says, "complexity is the enemy of execution" and this is 100% THE TRUTH.
Instead of bombarding students with 100 different exercises to be practiced 1000 different ways, I believe in keeping it simple & measurable.
Quick Explainer Video:
This ADVANCED training pack contains:
40 total practice loops
divided into 4 unique compositions highlighting 4 specific practice patterns
each in 10 different tempos so you can slowly ramp up your practice and gauge your progress
basic notation for each practice pattern
progress sheet to be used for tracking your improvement
LOOPS:
Loop A
Loop B
Loop C
Loop D
TEMPOS:
190 bpm
195 bpm
200 bpm
205 bpm
210 bpm
215 bpm
220 bpm
225 bpm
230 bpm
235 bpm
TECHNICAL SPECS:
mp3 audio files
592 MB .rar file (extract using most unzip applications or WinRAR)